Join in the GRAND Scavenger HUNT from August 30th to September 5th 2021 at Warehouse701 to raise money for four runners in the London Marathon. Rhys, Amy and Dave, together with Edward (who's camera shy!), will be representing the National Federation of Demolition Contractors and Wye Valley Demolition in aid of the SNOWDON TRUST charity.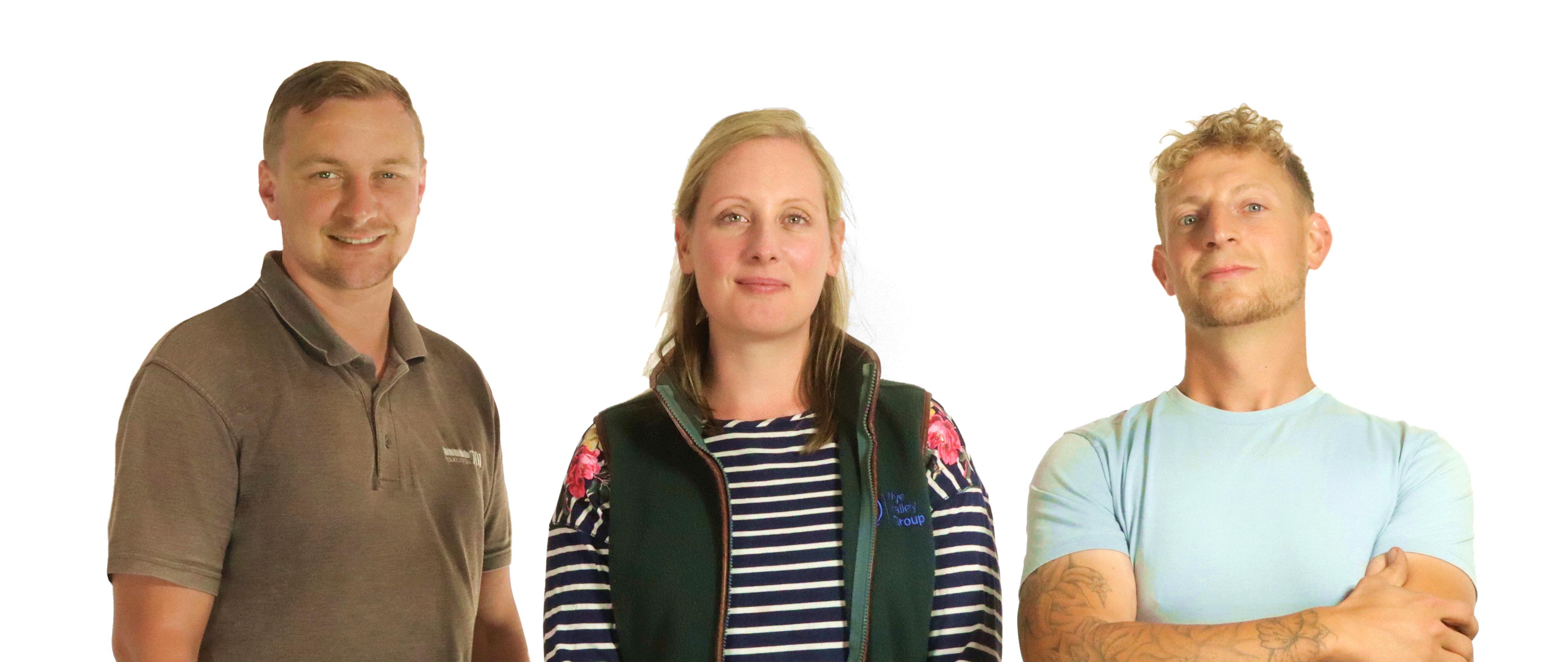 (from Left) Rhys Davies, Amy Howell and Dave Moore running the London Marathon with Edward WIlliams


At the heart of all this fun is a great cause, namely the SNOWDON TRUST. It works tirelessly to help people with disabilities achieve their goals in further and higher education and those training towards employment.
The Snowdon Trust was founded in 1981 by the first Earl of Snowdon a lifelong campaigner for the disabled. He contracted polio as a child and therefore understood that too many bright, capable but disabled individuals were being denied the opportunity to go on to post-school education. Since 1981 the Snowdon Trust has awarded grants of more than £4 million to more than 3,000 people to achieve qualifications and futures that might not otherwise have been possible.

If you're unable to join in the GRAND Scavenger HUNT but would like to support Rhys, Amy, Dave, Edward and the Snowdon Trust
you can click on the image above or make a donation at the:


Here's how you and the whole family can have fun, enjoy a great day out and support the amazing London Marathon runners raising money for this great cause.
From Monday the 30th August to Sunday 5th September - pop into Warehouse701, make a donation* and receive a Grand Scavenger Hunt photo-sheet. Find the items in the photos on display around Warehouse701 in any order you like, write down the number next to each item on your sheet and hand it in.
It's so simple and you could win £1,000 cash or one of two runners-up prizes of £250 cash.
There's also a children's scavenger hunt for those under 16 years of age with three prize vouchers for Odeon Cinemas, Hobbycraft and Amazon worth £50 each!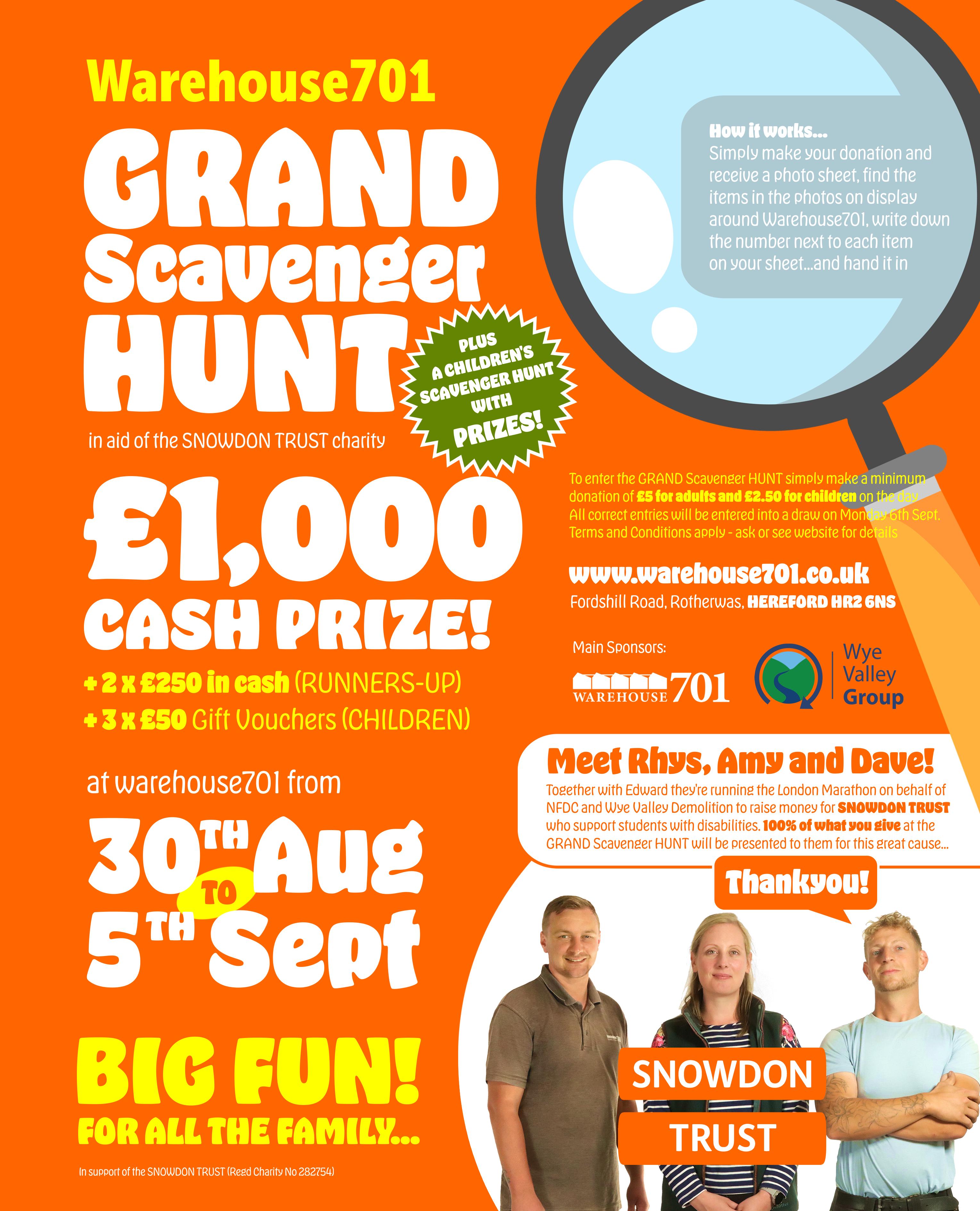 For the less adventurous (or if you've a sweet tooth!) there are several other fun competitions throughout the week including guessing 'How many bricks are in the pile?' and 'What does Lady Sarah weigh?'. We should explain that the Lady Sarah in question is a fine restored steam traction engine and not a member of the nobility! By the way, the 'large jar of goodies' in each case is a huge sweet-shop sized jar filled to the brim with assorted confectionery!


| | | |
| --- | --- | --- |
| | | |
| For children and the young at heart... | | to budding builders everywhere! |

We're open from 8am until 5pm (4pm on weekends) and all correct entries will be entered into a draw on Monday 6th September. In the case of the 'guessing competitions', the nearest number will win. If more than one person guesses correctly then the winner will be chosen at random from the correct entries.

A sample Grand Scavenger Hunt form (please note the actual items will vary) and an example of the numbered discs to discover


Please Note:
*Minimum donation for the Grand Scavenger Hunt: £5 per adult and £2.50 per child

Multiple entries (per person) to the Grand Scavenger Hunt and the Guessing Competitions are allowed
For the purposes of this event, children are considered to be any young person(s) under the age of 16
Any illegible entries may be rejected
All entry forms must be completed in full and submitted before 4pm on Sunday 5th September
Children should be accompanied by a parent or responsible adult at all times.

All details in this feature were correct at time of listing